"Everyday Greatness"
Challenges you to make three important choices everyday:
1) The Choice to Act – your energy
2) The Choice of Purpose – your destination.
3) The Choice for Principles – the means to attaining your goals.
Sounds good right? I've been stuck on this  book "Everyday Greatness" for quite some time. I've read 54 pages and skimmed other sections of the book and it's just not my cup of tea.
I think I jumped the gun on ordering it from Thomas Nelson's book club because it said "by Steven Covey and David K. Hatch," not reading or realizing that Covey was only going to be interjecting some thoughts here and there. What is printed on the book cover is a much more accurate description, "Insights and Commentary by Stephen Covey, Compiled by David K. Hatch. Reader's Digest." That "insights and commentary by" were not in the image on the bookclub site: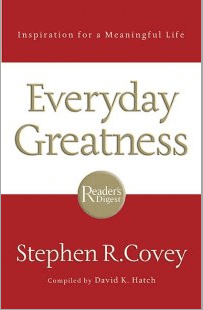 The short inspirational stories don't seem to have much depth to me and there are a lot of filler materials like entire pages of quotes. This IS Reader's Digest material rehashed. On the back cover it says,"Works from such diverse people as Maya Angelou, Jack Benny, Henry David Thoreau, and Joe Paterno." This line actually means quotes from these people. And in fact there are actually some excellent quotes in here but I didn't think I was getting a book of quotes either (plus I would never want to read a book of quotes cover to cover.)
If you like reader's digests but haven't really read a lot of them then this is probably a good book  for you. If you like quotes, there are some good ones in here. But it's been 2 years now, this is not my cup of tea and I'm just going to go ahead and admit I'm not going to ever read the whole thing.
I'm giving it 2 stars because I don't think it's a "bad" book per se, just not what I expected or enjoy reading.